Archive for
December, 2011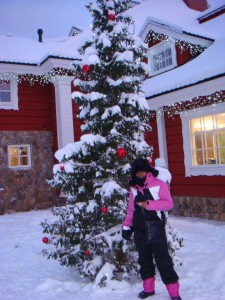 Merry Christmas from all at Teachdance!
I have been out in Lapland. Visiting Santa and having some winter fun. We are back and ready to celebrate the festive season.
Lots of dancing went on out there as it was a great way to keep warm! Whilst on my travels it was a fabulous opportunity to think about what I want to achieve in 2012. Have you made any new years resolution yet? Now is the time.
I have made it my mission in 2012 to help as many dancers as I can turn their passion for dance into their dream career or business. Our first IDTA dance teacher training course is in February and then Teachdance will be running them at regular intervals throughout the year to help more dancers gain recognised dance teacher qualifications, open a dance school, enter children for IDTA exams and become a dance teacher who gets the rewards that you deserve.
I hope you enjoy the holidays and have a think about how your life could be different in 2012. Your passion for dance could be your career by gaining a dance teacher qualification by gaining IDTA dance teacher training with Teachdance.
The hardest part of any journey is the first step. You can already dance so now could be the time to pass the dance skills you know on to the dancers and performers of the future!
Heres to your success in 2012!
I have been speaking to several dancers and dance teachers about the importance of gaining a dance teacher qualification. Most will agree that they think it is important but feel it is something they should do when they get 'older'. What age do you think is right to become qualified as a dance instructor? I believe that you are never too young or too old to do something that will allow you to make a career and ultimately an income out of your passion. Some dancers just teach 'on the side' and do not see teaching as a career option. They prefer to pursue a career of going to auditions and chasing the stardom dream! As a dancer what happens if you do not make it? Is teaching just the next best thing? Everyone is different but I feel that passing on your knowledge to the next generation is just as important as trying to make it yourself. Here are very few 'famous' and in fact successful dancers but there are so many successful dance teachers sharing their creativity all over the world. Dance teaching is such a rewarding career. It is a way of creating a guaranteed monthly income doing something you love and seeing people progress, build confidence and have fun. Gaining a recognised dance teacher qualification should be your first step if you want to become a dance teacher. (more…)