jess
This user hasn't shared any profile information
Posts by jess
Normally exams are always nerve racking but it is so refreshing to hear our Teachdance students say how excited they are to be taking their IDTA dance teacher exams. The dance teacher training they receive from us prior to them being entered for the exam allows them to feel confident and they can really enjoy the experience.
The exam you take at the end of the training is an hour and fifteen minutes long and consists of practical and theory. There is no final written exam, which a lot of you will be pleased to hear.
The students who took their exams last weekend are awaiting their results and this week attending their first mentoring sessions to prepare them to use their qualification and tutorials which will help them put students in for IDTA exams. That's where we differ from other dance teacher training companies. We stay in touch with you after you've got your dance teacher qualification; and help you on your way to achieving your dreams. Whether you want to become a dance teacher, teach dance in gyms, schools or colleges, open a dance school or another dance business we are here to help you succeed for years to come.
So if you are thinking about gaining a dance teacher qualification and want to start making your passion for dance your business or new career then that can propel you to have success in your dance business, generate a greater income for yourself and create exciting opportunities for the children and young people in your community get in touch with us now.
I did a sun dance and it worked!The sun is finally out! What a fab weekend of weather for us all here in the UK. It's nearly that time again for us to run another dance teacher training course. It has been great discussing dance teacher qualifications with so many dancers since we launched. The students who took our last IDTA freestyle associate course are nearly ready to take their professional dance teaching exams. They have done brilliantly well and it has been fantastic to watch them grow into in to dancing entrepreneurs and begin their journey of turning their passion into the business. Over half of those who took part are looking forward to opening their own dance schools after their exams. I know they will do really well and it is great to have made them aware of what gaining a dance teacher qualification and receiving professional dance teacher training can bring. They all know that their schools are built on the right foundation and the ones with dance schools already are looking forward to being able to put their students in for exams.
Our next IDTA freestyle associate course will be the week before the Olympics begin here in London. 21st and 22nd of July. We have managed to source some really affordable places to stay for you. You can get your dance teacher training and have a fantastic weekend in London socking up the Olympic atmosphere.
I am so blessed to be able to do what I love everyday. It has been hard work but I have come a long way since I started my dance school five years ago, I really want to now help you achieve your dancing dreams. Whatever they may be? If you would like more information about the course or just want a bit of guidance on where to go next in terms of starting or expanding your dance school or business I would love to hear from you!
Take care and look forward to seeing you on an IDTA dance teacher training course soon
Finally there is a first aid at work course just for you. We always hope that we will run our dance classes without a hitch but sometimes situations arise where it may be necessary to provide initial medical care to one of your students or class members. Having searched for a course that is specific to dance instructors and being unsuccesful in finding one that meets requierments we have now launched this Health and Safety approved recognised course especailly for dance teachers and fitness profesionals.
The course covers everything you will need to know in your role as a dance teacher in terms of first aid. This is a great additional qualification to have and is recognised by schools, gyms and most organisations world wide. We would fully reccommend that you equip yourself with these skills, you never know you could save a life!
when you first become a dance teacher who works with children you feel an overwhelming sense of satisfaction that never seems to go away. It has to be by far the most fun job in the world. Dancing After School are currently looking for dance teachers to join their team to work in schools and local community groups in a wide area. If you are looking for a dance teacher job that is flexible and fits around other commitments then this could be a fantastic opportunity for you.
It is absolutely free to sign up and you will receive in house 'teaching dance in schools' workshop absolutely free. It is free to sign up with us and you will just be notified when dance teacher jobs are available in your area.
We also offer our dancers fantastic bonuses which include this month's bonus of £200 off the cost of our IDTA dance teacher training course.
Our next dance teacher training course dates are fast approaching. So please feel free to contact us, if you become a dance teacher with Dancing After School you will make a huge saving and be able to put your new qualification to good use when you get it.
So if you are interested in teaching dance to children and young people please call me on 0844 414 2755 or leave a comment below with your email address and I will get back to you.
Jess
Are you an Entrepreneur?
When you think of an entrepreneur what image springs to mind? The Dragons in the Den?Sir Alan Sugar? Richard Branson? High flyers flying business class from City to City around the world? Well you might be right but what if I told you that you  too could be an entrepreneur. The meer fact that you are reading this post says that you are thinking about embarking on an entrepreneurial journey. Being an entrepreneur is not about flash cars or fancy clothes (although they are often a great bonus)
. It's about making a living out of something you believe in and are passionate about. Taking a dance teacher training course with teach dance is your first step to becoming an entrepreneur and being in control of your own destiny!
With an IDTA dance teacher qualification you will become a dance teacher with credibility. You will be able to enter children for dance exams, set up a dance school, or teach in schools; The possibilities are endless and it all begins with a dance teachers qualification. I know because it is the very same  dance teacher qualification that has allowed me to grow my very successful dance business and now allows me to help you do the same.
A lot of people may argue that we are in a recession and it is hardly the right time to start a business but a true entrepreneur sees opportunity in hard economic times. There is no right time to start a business and in fact a recession is probably a better time than any other. For example it is now easier than ever before to negotiate a good price for your venue hire as venue landlords are keen to hire out their spaces for classes and are offering competitive rates right now! This will mean you will make more profit from your classes. Throughout a recession there are some services that people will still pay for. Dance makes people feel good, people want to keep fit and they want their children to do worthwhile activities. So they will still pay for your classes if you offer quality.
So a new year and a new start. A great opportunity to make your passion your business and turn your dreams of being your own boss into reality. Become a dance teacher, I never looked back and neither will you!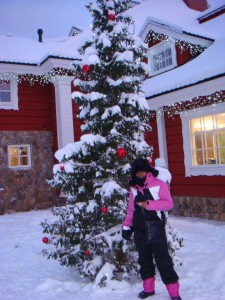 Merry Christmas from all at Teachdance!
I have been out in Lapland. Visiting Santa and having some winter fun. We are back and ready to celebrate the festive season.
Lots of dancing went on out there as it was a great way to keep warm! Whilst on my travels it was a fabulous opportunity to think about what I want to achieve in 2012. Have you made any new years resolution yet? Now is the time.
I have made it my mission in 2012 to help as many dancers as I can turn their passion for dance into their dream career or business. Our first IDTA dance teacher training course is in February and then Teachdance will be running them at regular intervals throughout the year to help more dancers gain recognised dance teacher qualifications, open a dance school, enter children for IDTA exams and become a dance teacher who gets the rewards that you deserve.
I hope you enjoy the holidays and have a think about how your life could be different in 2012. Your passion for dance could be your career by gaining a dance teacher qualification by gaining IDTA dance teacher training with Teachdance.
The hardest part of any journey is the first step. You can already dance so now could be the time to pass the dance skills you know on to the dancers and performers of the future!
Heres to your success in 2012!
I have been speaking to several dancers and dance teachers about the importance of gaining a dance teacher qualification. Most will agree that they think it is important but feel it is something they should do when they get 'older'. What age do you think is right to become qualified as a dance instructor? I believe that you are never too young or too old to do something that will allow you to make a career and ultimately an income out of your passion. Some dancers just teach 'on the side' and do not see teaching as a career option. They prefer to pursue a career of going to auditions and chasing the stardom dream! As a dancer what happens if you do not make it? Is teaching just the next best thing? Everyone is different but I feel that passing on your knowledge to the next generation is just as important as trying to make it yourself. Here are very few 'famous' and in fact successful dancers but there are so many successful dance teachers sharing their creativity all over the world. Dance teaching is such a rewarding career. It is a way of creating a guaranteed monthly income doing something you love and seeing people progress, build confidence and have fun. Gaining a recognised dance teacher qualification should be your first step if you want to become a dance teacher. (more…)
httpv://youtu.be/4S5GKIgJ3rY
As we move in to the last two months of the year would you like to do something that will empower you and catapult you into success for 2012. You could start the new year with your own business and earning the wage that could lead to the finical freedom that we all deserve and the best part is that you can dance your way to success.
Our Next dance teacher training course is on 18th, 19th and 20th November. On completion and subject to passing an IDTA Exam (International Dance Teachers Association) you will have an internationally recognised dance teacher qualification recognised in 57 countries worldwide. You may be teaching already but this qualification will give you the knowledge, the confidence to take your career to the next level and position yourself in the market where you will get noticed and create fantastic opportunities for yourself and for your students whether that be through your own marketing efforts or through the IDTA exam programme for students which you would be eligible to put your students through.
Here is an example of what you could potentially earn after your dance teacher training and passing your IDTA freestyle associate exam.
If you did:
5 classes per week and charge £5. Got 20 students in each class you would earn £500 per week
If you ran your dance classes 45 weeks of the year (which allows plenty of time for holidays!) you would earn £22,500.
5 x 20= £100 X 5 classes = £500
£500 x 45 weeks = £22,500
Approx overheads= £3,500
£19,000 profit
This is purely based on you delivering 5 classes a week. With some business skills which you will pick up on your dance teacher training course you will be fully on track to dancing your way to success in 2012. This is achievable, you just need the knowledge, training and determination to make it happen!
Knowledge is power! Lets make 2012 your year to shine!
httpv://www.youtube.com/watch?v=-c832tu7dI0
Are you stuck in a 9-5 rut?
Do you want to set your own working hours?
Do you want get paid for fulfilling your passion?
Getting in to the 9-5 rut was something that I never started as whilst I was at uni working a retail job I decided that I only ever wanted to be my own boss! After being in education since the age of 5 I was ready to make the rules and set the trends. As you know my business started with 13 children in a church hall and has now grown into a dynamic organization made up of two companies, 4 dance schools, 24 dance instructors delivering over 40 classes a week across London and surrounding areas. It has given me freedom. I set my working hours, I get to meet fab people and help children all using my passion for dance.
If you are over 18 and have a passion for dance. You can make money using your passion and turn the love you have for dance into your career or even a business. Getting the right dance teacher training is the perfect way to get started.
After you take your IDTA exam which leads to your dance teaching qualification (which is a professional qualification recognized worldwide), you will be equip with the knowledge, skills and confidence to quit that 9-5 and start living your own dreams!
This dance teacher training course is designed to teach you how to become a more proficient teacher and give you the professional knowledge needed to start/grow a dance business or how to market yourself professionally to other organizations as a self employed dance instructor. You do therefore need sufficient dance knowledge and a bit of previous dance teaching experience is desirable but not compulsory.
SPECIAL OFFER!
For the next 2 weeks only we are bringing you a very special offer. If you know someone who wants to get qualified to teach dance also we are offering the chance for both of you to get qualified for £1997. Saving you nearly £600! It would be great to have someone you know on the course for you to go over coursework with or practice routines together. Who knows perhaps then you can set up your dance school together too?
For more information call us now.
httpv://www.youtube.com/watch?v=76G_9OeJeH8
Steve Jobs the Perfect inspiration for obtaining a dance teaching qualification.
Today is a sad day. Unfortunately the world has lost a phenomenal individual. Someone who worked hard to achieve what he believed in and as a result changed to the way we live!
There is a Steve Jobs in each and every one of us! We all have the capacity to use what we are passionate about to change the world and improve the lives of others. Through running a dance business I feel that I can inspire children to achieve their dreams, build confidence, raise their self-esteem and develop skills that will help them throughout their lives.
Offering dancers like you the opportunity to receive affordable dance teacher training which can lead to you setting up a dance business of your own or developing professionally through further IDTA exams and raising your credibility within the dance world allows me to achieve fulfilment; through helping you to realise your dreams and make them reality. How fantastic would it be for you to use your talent in dance and love for sharing your creativity and choreography to gain a teaching qualification that will give you the potential to change the world just like Steve Jobs has done with apple.
The two day intensive IDTA associate course is how I began my journey in to creating and growing a dance business. I now would love to hear about your dance dreams and aspirations and help you achieve them!
I will leave you with a quote from the great Steve Jobs himself:
‎"Your time is limited, so don't waste it living someone else's life. Don't be trapped by dogma, which is living with the results of other people's thinking. Don't let the noise of others' opinions drown out your own inner voice. And most important, have the courage to follow your heart and intuition. They somehow already know what you truly want to become. Everything else is secondary."
Steve Jobs 1955-2011, may you R.I.P. on your iCloud
jess's RSS Feed